The necessary protective measures arise from the nature of the activities at special workstations as well as the respective UVV or the workplace regulations, in particular if several persons are used in a narrow space simultaneously on or around the work table. The multi-part protective curtain systems consist of a basic module and expansion modules. These can be fastened centrally, angularly or circumferentially to the work table. At the same time, the work processes themselves are protected against unwanted influences from the working environment.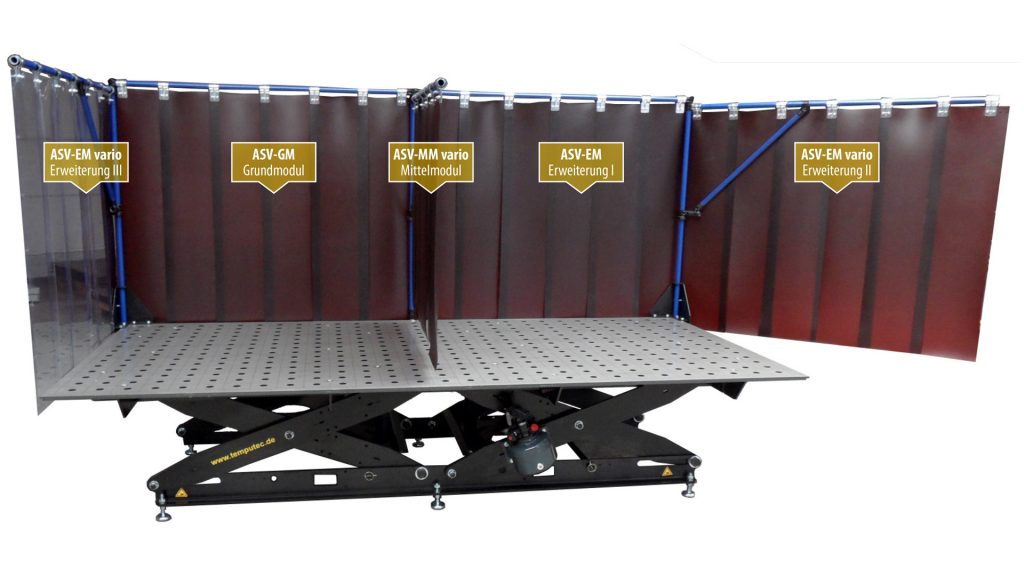 ASV protection
Efficient shielding of the working environment against exposure to UV radiation. ASV shields, which are attached directly to the work table, also enable more effective exhausting of gases, smoke or odors. The lamellas can also be used as a splash protection against loose particles / parts during the processing of workpieces or the use of hydraulics, even without UV protection.

ASV modul system
Protective lamella modules can be mounted directly or indirectly to TEMPUTEC special workstations SST / SMT in any desired combinations. At least one basic module ASV-GM is required and can be extended by any extension modules. The additional designation "vario" indicates swivel-mounted protection modules.

Product variants & request
In order to receive a no-obligation offer, please make your selection in the table below (click on the boxes in the table) and send us your request on the following page. You will then receive an individual price offer from Temputec GmbH.