working table systems with an adjustable height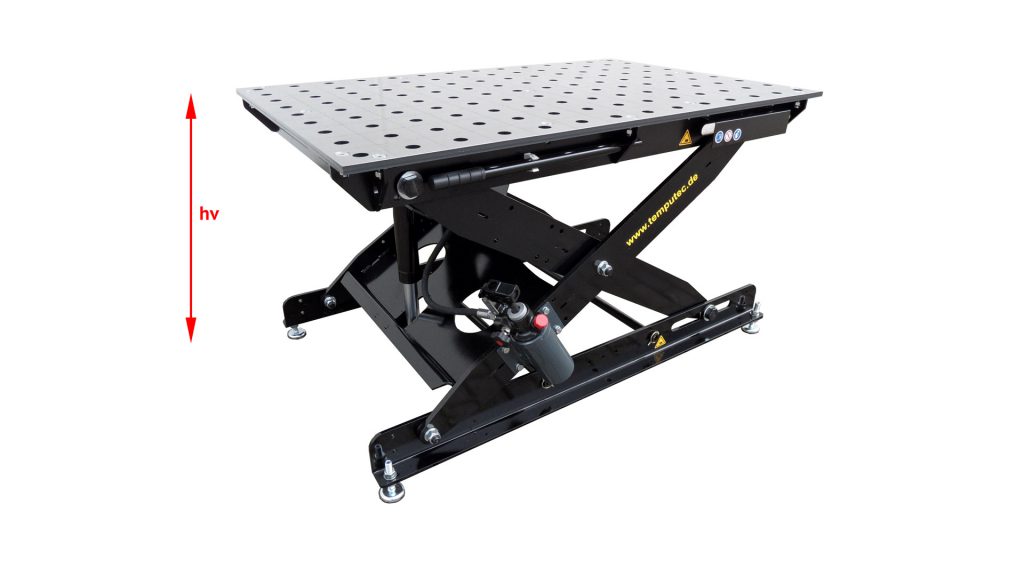 Product variants & request
In order to receive a non-binding offer, please make your selection in the table below and send us your request on the following page.
You will then receive an individual price offer from us.
Description
Special working tables of the TEMPUTEC FLEX series also have a 100 x 100 mm Ø 28 hole grid same as the FIX series. In addition the FLEX series tables are featured with a manual or 200V or 400V electro-hydraulic height adjustment system.
This allows the users to adjust the entire system table to a special working height to improve the operation conditions without sacrificing ergonomics and cost-efficiency. The range of the height adjustment reaches from 650 – 1,050 mm or even 250 – 900 mm.
The height adjustment of the tables combined with its capability to move them around by just using a standard hand forklift truck enabeling a flexible use of such systems also at other machinery in order to perform secondary operations or maintenance work locally.
Special working tables are ideal solutions for the maintenance of heavy toolings such as used for injection molding, die casting, forging or similar.
Due to the comprehensive bolted joint design the clamping plate can be replaced at low cost if wear occurs later. The table system is therefore especially long-living.
The table below provides an overview of the available standard models.
Features of TEMPUTEC SST flex series:
Features of TEMPUTEC SST flex series: The SST FLEX table models are available in 5 sizes as standard. The surface material and the dual tabletop thickness can be selected based on the application. For special materials such as aluminum, wood or plastic variants, please contact us by phone, email or fax.
extremely rugged solid steel design,
comprehensive bolted joint design
height-adjustable from 650 – 1050 mm or optional even 250 mm – 900 mm
secure and stable by up to 890 kg net weight and levelling feet
table plate thickness dual 16mm or triple 25 mm with Ø 28 mm hole grid
100×100 mm line grid for alignment of workpieces and appliances
wide variety of tabletop materials (aluminium, stainless steel, polymer, etc.)
no power supply necessary with manual hydraulic but 220/400V electro-hydraulic drive also available on demand
components coated in black RAL 9005 (powder or KTL,with exception of tabletop unit)individual colorations feasible at extra costs