working table systems with a fixed height and side panels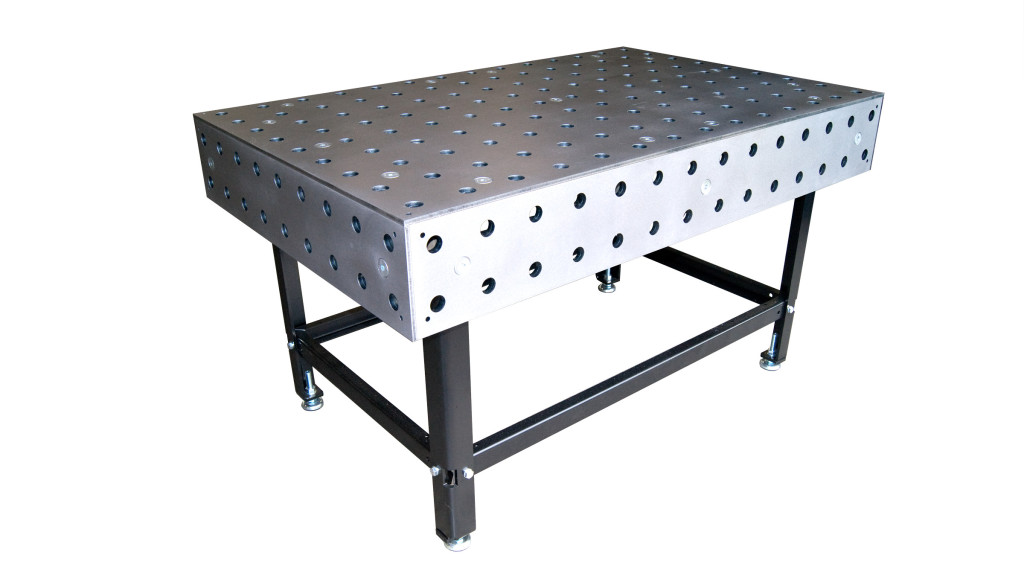 Product variants & request
In order to receive a non-binding offer, please make your selection in the table below and send us your request on the following page.
You will then receive an individual price offer from us.
Description
The special working tables of the SWT FIX series are ideal workplaces for efficient clamping, welding and processing adhesive bonding structures such as railings, racks, appliances, etc.
With the help of our extensive assortment of clamping devices (see section "Clamping Table Accessories") these table systems are usable as flexible fixtures for high-quality manufacturing of small and medium volume products.
With its 16 mm thick metallic plate and Ø28 hole grid the working benches are usable as 3D-welding table system (tabletops also are available with a 25 mm (triple plate 24+1mm) plate version for extreme heavy working tasks).
Additionally the table pate has 100 x 100mm line grid markings to assist alignment of workpieces or appliances.
The Ø28 system hole grid allows the use a variety of clamping elements and fixation aids. For special process requirements, it is possible to alter the working plate materials to for example, stainless steel 1.4301, aluminum, polymer or even high strength ST70 materials.
Due to the comprehensive bolted joint design the working plate can be renewed at low cost if wear occurs later. The table system is therefore especially long-living.
The table above provides an overview of the available standard models.
Features of TEMPUTEC FIX series – SWT:
The SWT FIX table models are available in 4 sizes. The surface material thickness can be selected according to application. For special materials such as aluminum, wood or plastic, please contact us by phone, mail or fax.
extremely rugged solid steel design, comprehensive bolted joint design
secure and stable by up to 650 kg net weight and levelling feet
tabletop of 16 mm thickness dual or 25 mm (triple) with Ø28 mm hole grid
100×100 mm line grid for alignment of workpieces or appliances
variety of tabletop materials (aluminium, stainless steel, polymer, etc.)
surface coated in black RAL 9005 (powder or KTL, with exception of tabletop unit)
surface can be coloured individually on demand